Ditch the boring, same old designs– get ready for the ultimate personalization experience with Stag Wears! Stay authentic to your unique self and channel your individuality through our range of premium Custom Made Jackets.

Did you know that the type of clothes you choose to wear can speak volumes about you? Serving far beyond their plain functional use, clothes offer a form of self-expression for most of us. They reflect our style, our personality, and give a window into our souls. They make us feel more empowered and more in touch with who we are as individuals.
In short, our clothes tell our story.
So don't let mass-designed clothes tell your story- take charge of shaping your own with Stag Wear's range of custom-made jackets.
We've created our intuitive Design Lab for the very purpose of bringing your vision to life. We strive to provide absolute customer satisfaction by providing you with numerous options regarding the material combinations, colors, and sleeve styles of your jackets, among other choices.
The thing about a custom-made jacket is that it never goes out of style and never will for as long as the world appreciates originality. If you've chosen to go the apparel direction while choosing a gift for someone or just want to treat yourself with an attire that screams you in every sense, then be sure to go with custom-made jackets, something that's tech-savvy and birthed by your own ideas. 

High Degree of Customization – Custom Made Jacket
Regardless of what your style is, the countless options provided are bound to encapsulate you and your vogue. Whether it be an imperishably laid-back look, the minimal chic look, or the nonpareil contemporary street style look, a custom-made jacket can achieve all. You can add colors to the body and sleeves. Choose between quilted lining or satin lining for a plush and pleasant inside. Select colors for acrylic knit on the cuff, collar, and waistband according to how you interpret yourself. Play with the design and put your abstract ideas into a concrete form.
Wide Variety of Materials and Sizes Available
Stag Wears gives you a canvas to spill your ideas on and flaunt it for the world to see. The wide-ranging variety of materials extends from Cowhide Leather to Polyester Satin, including; Sheep Leather, Melton Wool, Cotton Fleece, and Cotton Twill. A novel creation that is modeled over your likings with finest materials, exquisite craftsmanship, sizes that fit all ranging from XXS to 6XL, and the thing that puts it over the top; discovery and expression. Custom-made jackets foster diversity and enable the customers to fully manifest themselves and to create a persona distinct from all others.
Here are all the types of custom made jackets you can shop at our website:
Custom Varsity Jackets:

Varsity Jackets, also commonly known as Letterman Jackets, have been a part of this world since the 1930s. Not only have these jackets represented the jock culture throughout these years, but have also evolved into the style that has highly appealed to fashionistas, school, and college students. Irrespective of gender, Varsity Jackets have taken over associations, clubs, and communities. Customization focuses on colors that are a symbol of your personality, a style that focuses on what you believe fashion is, and the material that frames you comfortably. It all depends on you and your taste.

Custom Fleece Hoodies:

The mundane look of an ordinary hoodie can now be made trendy by your own ideas and imagination. Play with our Design Lab and make yourself an extraordinary outfit that battles the cold while making you feel dashing and hip.
You can choose from a range of original materials, add buttons or zippers according to your liking, and personalize it with your initials, a logo of some club, association, or group. Pick from a color spectrum of 20 different shades. Match your sleeves or go in an entirely different direction. Give measurements to get an exact fit shape that matches your persona. Design what you think would look best on you.
Custom Satin Jackets:

We construct our Satin Jackets with high-end, exclusive material that has a glossy face and a soft, slippery texture. Our Jackets can be customized from a spectrum of 20 flamboyant colors and fabrics of your liking. Create a unique, impressionable combination and see yourself thrive. Get it etched with your initials, symbols, or abbreviations to set it apart from the rest. Choose between a zipper or buttons to get a more personalized and pleasant attire. The jackets are fabulously alluring, with a perfect balance between glamour and comfort.

Custom Bomber Jackets:

With Bomber Jackets, the style range is boundless and so are the possibilities. Custom Bomber Jackets only add to the list of potential prospects.
While considering a Bomber Jacket, keep in mind the variety of materials you can choose from. You can play with a wide range of color options available to individualize your jacket. Personalize your jacket by marking it with your initials or any other letters. Add names, logos of your school, college, club, or even organizations.
The soft yet premium quality leather or silk material provides the protection you're seeking from the cold weather while also making you runway-ready. Use special YKK zippers in various colors and exhibit a brand new, confident, self-satisfied you.
Custom Track Jackets:

Athleisure has made a fortune since its inception and will continue to do so for the foreseeable future. Riding on top of this trend are Track Jackers. 
Stag Wears produces Track Jackets that give an edgy look to an overall boring outfit. These provide a layer of warmth, shielding you from the cold with a touch of style and a sprinkle of technical chic. You can personalize Custom Track Jackets by choosing a style for your neck and sleeves, a material for your jacket, and picking out colors from an entire spectrum available to the most suited option for your skin tone.
The endless options of getting your name, logos, symbols or abbreviations etched into your attire further enhance the individualizing experience. Get something that complements you and is according to your liking.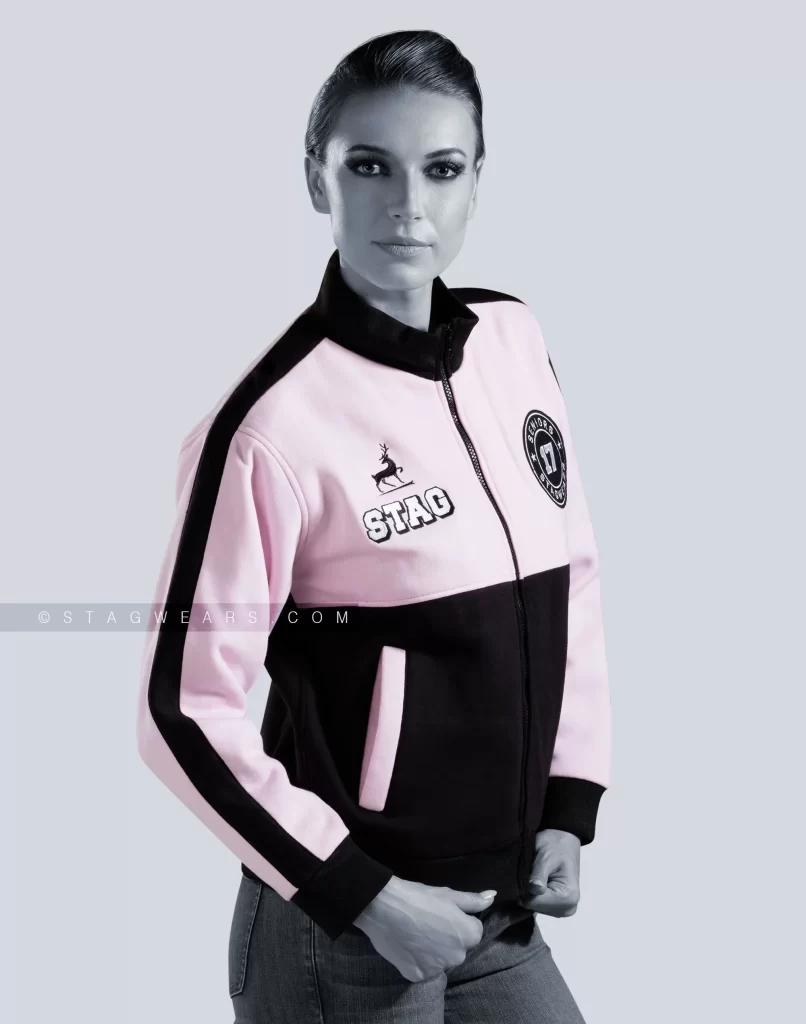 Now that you know of all the custom made jacket options available to you with Stag Wears, the only thing you have to do is pick!