Design Varsity Jackets like never before, with Stag Wear's intuitive and easy-to-use Design Lab!
Nothing screams class and prestige quite like a varsity jacket. While they may have become more mainstream in recent years, the varsity or letterman jacket as it was originally called, has still somehow managed to retain its charm and style.
But if an ordinary varsity is cool, a customized one is at least ten times more so. With the added uniqueness factor of a customized varsity jacket, you'll definitely be turning some heads in the crowd.
At Stag Wears, we offer our customers quality material, a wide variety of customization options, colors, and inclusive sizing options. With our intuitive and easy to navigate Design Lab, you'll be able to customize your letterman jacket to your exact specifications. Side by side, you'll also be able to see a preview of what your design varsity jackets will look like. Not only this, but you also have the option of saving your designs and retrieving them at a later stage.
Although our Design Lab is pretty straightforward to use, to better assist you on your customization journey, we've put together this comprehensive guide to designing your very first customized varsity jacket.
To tweak a popular saying, "The Design Lab is but a canvas to your creativity." So get creating!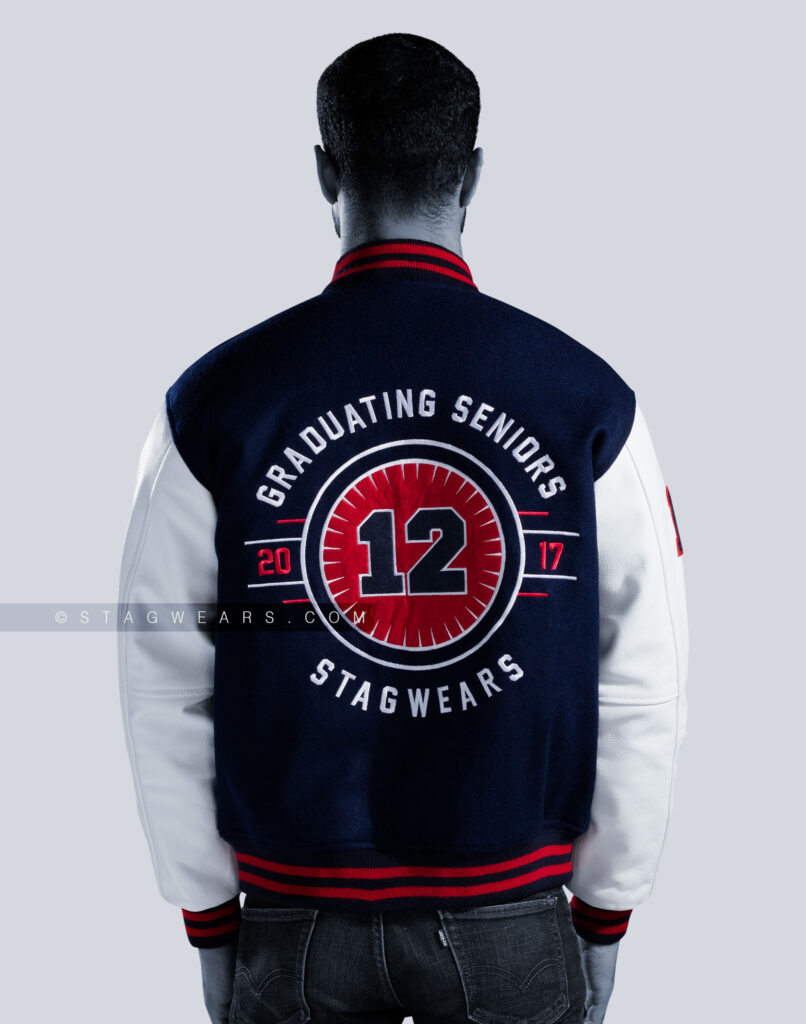 Step 1: Materials and Style for Varsity Jackets
Body:
Here's a quick rundown of the types of materials available for the body:
Cotton fleece: Hypoallergenic and breathable, cotton fleece makes a good choice for those with sensitive skin.
Cotton twill: A heavyweight and thick fabric, cotton twill is ideal for making jackets and is highly durable and easy to maintain as well.
Cowhide Leather: Known for its durability and comfort, cowhide leather is thick and water resistant, making it a good choice for the cold, wet seasons.
Sheep Leather: Generally softer and smoother than cowhide, sheep leather is one of the most expensive types of leathers out there, which makes garments made from this material all the more exclusive.
Polyester Satin: Luxuriously smooth and silky, the synthetic blend of polyester and satin makes for a soft, warm jacket.
Melton Wool: Undoubtedly one of the most weatherproof fabrics on this list, melton wool is a type of thick, robust wool that makes an excellent choice for outwear like varsity jackets.
Sleeves:
If you chose any of the above mentioned materials, with the exception of melton wool, for the body of your jacket, then the sleeves will be made from the same material too.
However, if you chose melton wool for the body material, then you'll have a choice between either faux leather, cowhide leather, sheep leather or melton wool itself for the fabric of the sleeves.
Sleeves Style:
You get the option of choosing between the following two sleeves styles:
Set in: A set in sleeve comes with a shoulder seam that continues right around the arm of the jacket. It looks more professional and formal than a raglan sleeve.
OR
Raglan: The raglan style has no shoulder seam, instead using one continuous piece of fabric that extends from the collar of the jacket down to the underarm. This lends the jacket a wider underarm fitting for added comfort and breathability, especially when wearing layers under the jacket. This style is more sporty and casual than a set- in sleeve.
Front Closure:
Next, decide whether you want a zip-up jacket or a buttoned one. The names are pretty self- explanatory and choice between the two is mostly just a matter of preference.
Zip up jackets provide a stronger and more complete seal, thus providing greater warmth. Buttoned jackets on the other hand, though less practical and efficient than their zipped counterparts, have an endearing charm that infuses more of a classic aesthetic to your look.
If you choose to add buttons to your jacket, you'll also have the option of adding a flap (zip plus buttons) for added convenience.
Add Hood:
Choose whether you'd like your design varsity jackets to have a hood or not.
Knit Styles:
This is the pattern that will appear on your varsity's banded waist and wristbands.
The five designs offered are plain, single line, single line with border, two lines, and finally, two lines with border knits.
Inside Lining:
For the inner lining of your varsity jacket, you can choose between either quilted lining, polyester satin or cotton.
Quilted lining is bulky and undoubtedly the warmest, polyester satin is heavy, durable and warm. Cotton is perhaps the most breathable option; not only is it comfortable against your skin, but it also provides warmth without adding additional bulk to the jacket.
Note: You have the option of adding a ½ zip out lining to your jacket. This makes it easier to incorporate your own embroidery and patches into the design without having any unsightly threads hang out. However, please note that this does not make the lining removable.
Step 2: Add Colors to Varsity Jackets
Most varsity jackets tend to have two colors, but you can also design yours in more, although we wouldn't recommend using any more than 3 colors—the simpler, the better.
Traditionally, varsity jackets have been designed in the official colors of the wearer's high school/ college or organization. You might want to consider using the primary color in your organization's logo as the core color for your jacket's body, with the sleeves bearing the secondary color. If you don't have a secondary color (or even if you do but don't much prefer it), you can't go wrong with white sleeves.
Apart from the body and sleeves, you'll also have to choose colors for your design varsity jacket's buttons/zipper, pockets, inside lining, knit base, knit lines, knit border, and if you've chosen a hood design, then the colors within and outside your hood.
Step 3: Add Designs
Now that you've taken care of the nitty gritty bit of designing your custom varsity jacket, comes the fun part. Unleash the artist within you and let your creativity shine as you add typography, varsity badges, and patches to decorate your jacket!
Front center:
Right at the front center, where it will be in the limelight, you can type in the name of your college or organization. You get a maximum of 12 characters and can choose between 15 different font styles. You can also customize the appearance to either be in a straight line or in an arc, whichever way you like it.
Moreover, you can also change the font and border color, which is by default set to black and white respectively.
Pockets:
The pockets are a great place to showcase any sports, academic, or commemorative patches that you might have. You can choose between putting letters or symbols above the pockets of your letterman jacket or uploading your own logo from your computer.
Letters: Choose between Ready to Use letter templates (single character) or Type Your Own (max 4 characters). In either case, you get to decide between an embroidered or felt patch.
With the predesigned templates, you have 4 font styles you can choose from whereas, in the Type Your Own option, you'll have 15 different font styles to choose from. The latter, though, will obviously be a little smaller in size to accommodate for space.
OR
Symbol: If you decide to place a symbol above the pockets, you'll have a choice between three artwork types; badges, flags, and mascots.
For the badges, depending on your college/ organization's logo colors, you can also choose colors for the borders and fill.
OR
Upload: Can't find the right symbol or logo? No problem, just upload one from your computer. Simply choose a JPG or PNG file from your computer, toggle the Remove Background option if the image contains a background and you're good to go.
However, steer clear of any images that are lower than 300 dpi– low resolution images will not print out clearly on the fabric.
Sleeves:
This is where typically the school/college logo or graduation year comes. In our Design Lab, you have the following options for this position:
Name: Type in your own or your team name (max 12 characters allowed, in any of the 15 fonts, plus you can choose font color).
OR
Numbers: This is where you'll add your graduation year or jersey number (max 4 characters allowed, you can choose font style and color, appearance can either be felt patch or embroidery).
OR
Symbols: The same artwork types as before are included here but this time you also get editable badges: other than changing the color scheme of the badge, you can also edit the text or in some cases, even upload your own logo or image.
Back Top:
This is where your name comes. You get the same options here as you did for front center.
Back Middle:
Traditionally, this is where your school/ organization's mascot is displayed. You can also add a name or symbol here, or of course, upload your own logo.
Back Bottom:
This is where your team name comes.
Step 4: Select Size
For the final step, select the size you want your letterman jacket to come in. Stag Wears offers its customers a whopping 15 different sizes to choose from, from XXS to 6XL.
And that concludes our comprehensive guide to Stag Wear's Design Lab. This is where your work stops and ours starts. The same love and effort you put into designing your custom varsity jacket, you'll find replicated at our end too. But instead of tooting our own horn, we'll let the magic of the final product do the talking 😉 We hope you have fun creating your design varsity jackets!
P.S: You can add a special note to your order att any point in the process, with any instructions or directions that you might have, and we'll try our best to accommodate you.
P.P.S: If you have any questions or run into any issues whilst designing, feel free to pick our brain at our 24/7 customer support.