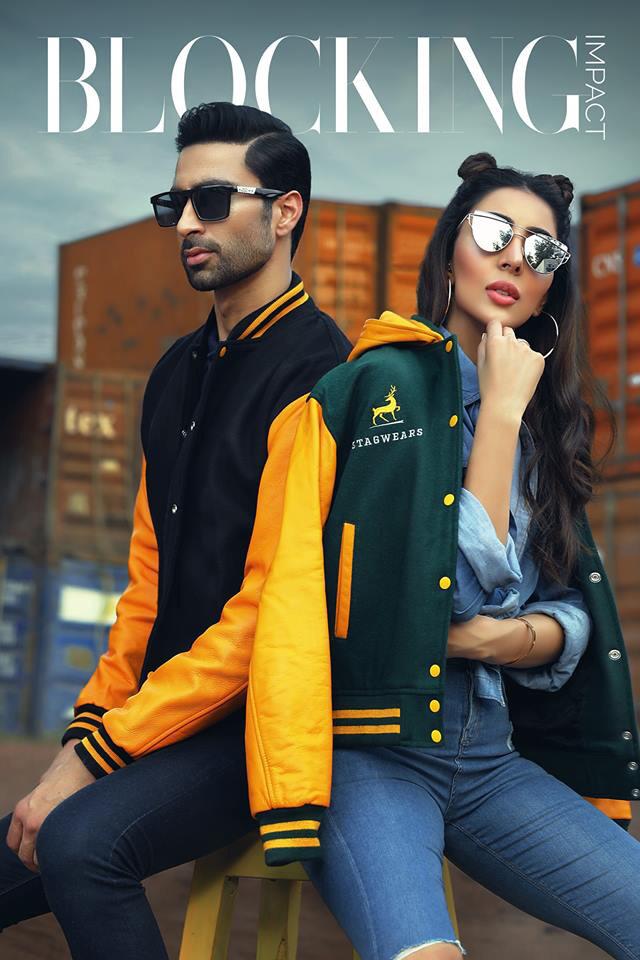 With the recent trend of celebrities like Beyonce, Rihanna, Blac Chyna and Justin Bieber in the news wearing bomber and varsity jackets, more and more people are looking for the best place to buy these kinds of  jackets so they can follow the latest trends. Their classic look and versatility is making them extremely popular among these celebrities.  You'll see them paired with short skirts or cropped tops for a really cute look. They can be dressed up with a tight pencil skirt. Or, they can be paired with a simple t-shirt and jeans for a super comfortable, sporty look. Without a doubt, this is a look you're going to want to have. But, before you decide where to buy, let's make sure you know what you should look for.
First, what's the difference between a bomber jacket and a varsity jacket, and which one should I be looking for? At first glance, these jackets might appear the same, but there are distinct differences.  Traditionally, bomber jackets have a military origin while varsity jackets began with school sports.
Bomber jackets were designed to be more functional for fighter pilots with a shorter length than traditional jackets,  which allowed the pilots easier movement while seated in the plane. They first appeared in the military in the late 40's and were so popular that they started being sold on the black market soon afterwards. Their ease of movement also makes them perfect for today's active lifestyle. The custom bomber jacket were usually made with a satin or nylon shell with polyester lining.  They have a elasticized knit collar, waistband, and wristbands to help keep the cold out. A picture is attached for reference below. Satin Bomber jackets usually have a zipper closure for quick on and off.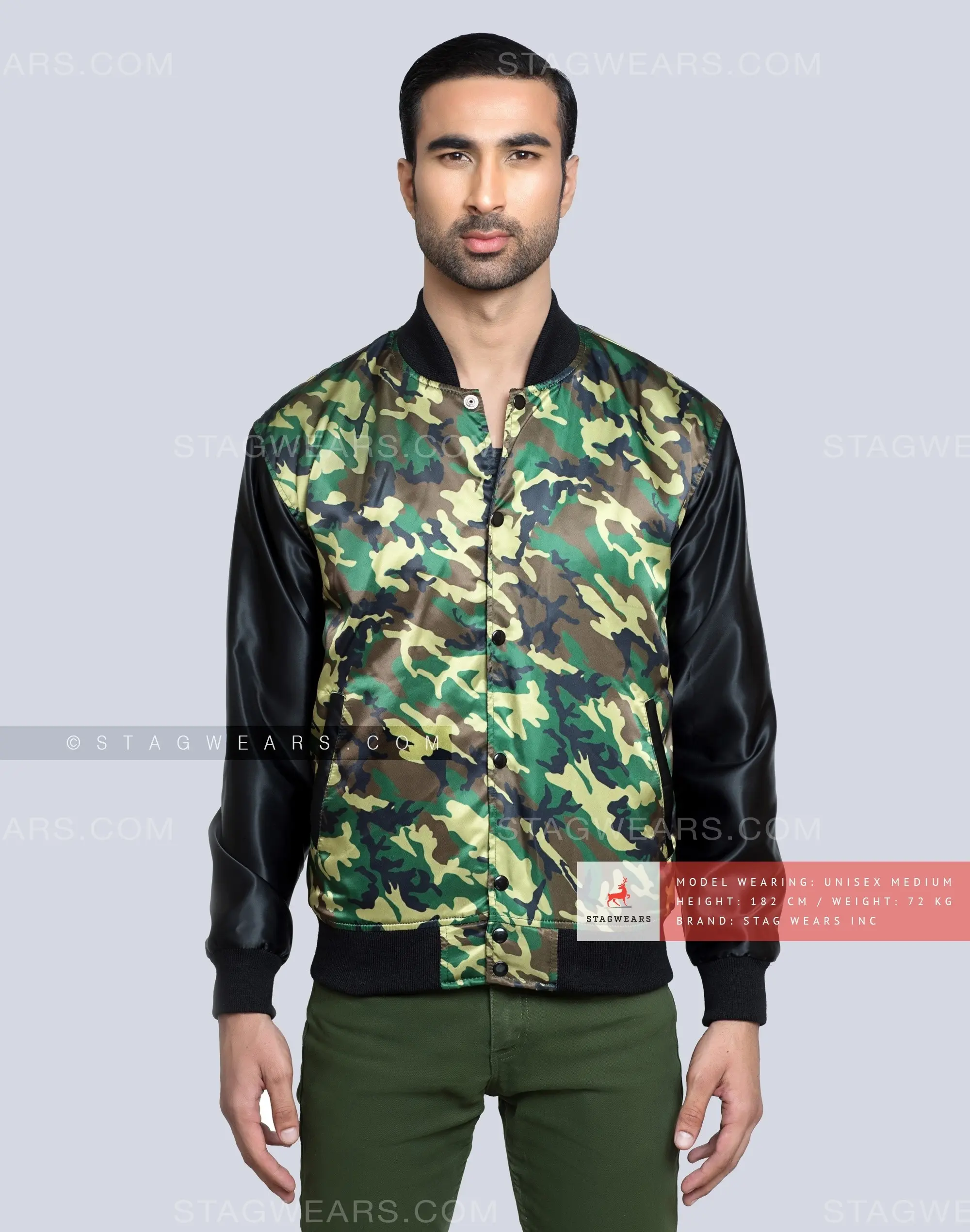 Varsity jackets have different beginnings.  They come from the traditional Letterman jacket or baseball varsity jackets worn by high school, baseball teams and college students to show team pride and were customized with the school's or team's colors. The first varsity jackets (baseball jackets) trace their origins back to the Harvard University baseball team in 1865, but then became popular with varsity football, baseball and basketball teams. Athletes would earn the varsity letter, which would be the school initials, that would be worn on the left breast.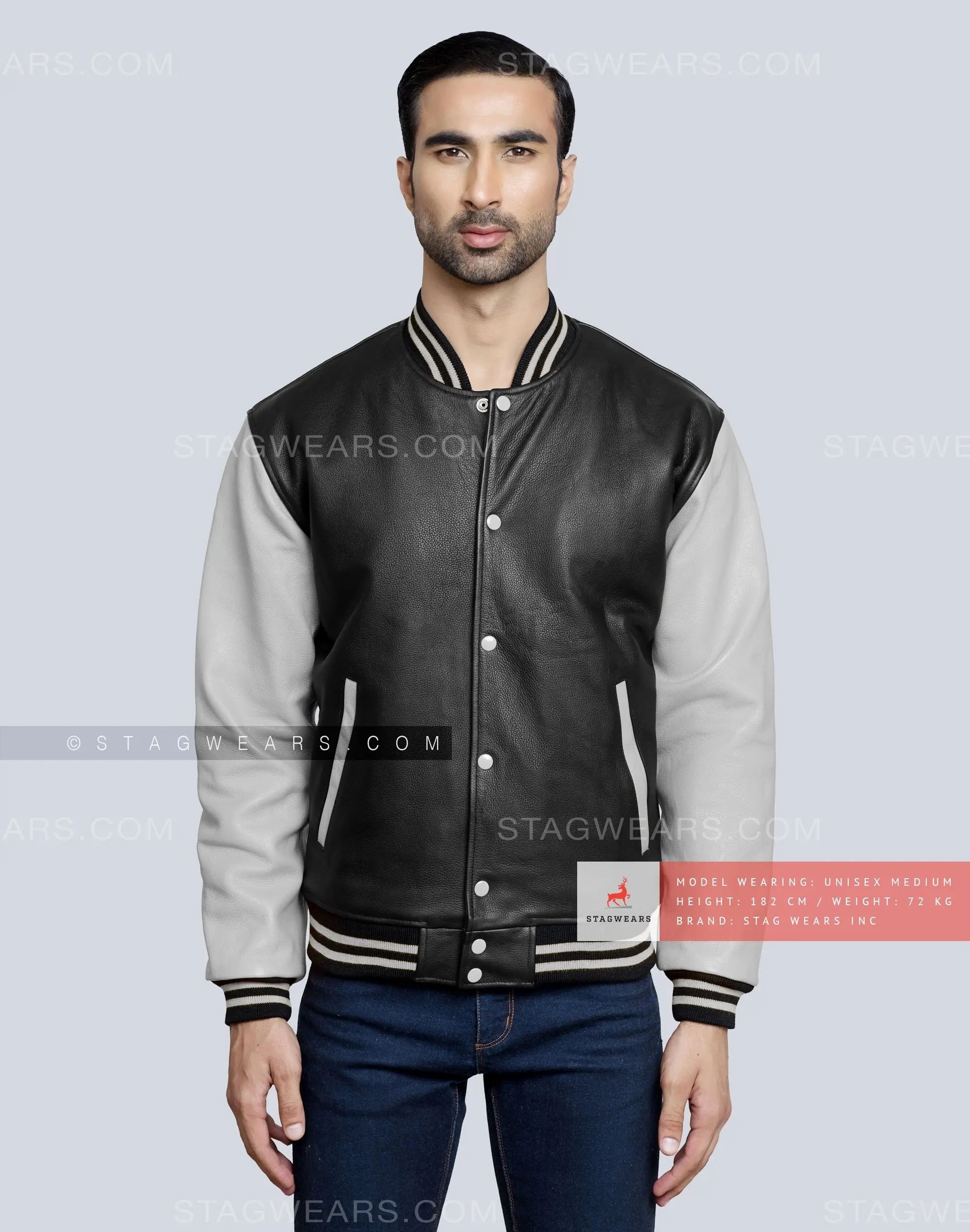 Other team medals and patches could also be affixed to the custom varsity jacket to show even more prestige or spirit.  The original styles were made from boiled wool body with leather sleeves. Similar to the bomber, they also have a knit collar, waistband, and wristbands, but on a varsity jacket, they are usually banded, meaning they are striped, two show both of the team's colors. They commonly have a button or snap closure.  They were extremely popular during the 1950's when they were worn by stars like James Dean and Elvis Presley. Today, they are still popular with athletic teams like dance and hockey, but their classic look can be updated with customized colors and patches and paired with modern fashion for a fresh runway look that's perfect for street wear.  Which one you choose depends only on your personal design preference.
What material should I choose for my bomber or varsity jacket?
The wide variety of materials available makes these jackets perfect for fall, winter or even spring.  Your choice will depend on your style preferences and your budget. Wool & leather is always a classic, long-lasting choice but there are also lighter weight and less expensive materials to consider for varsity jackets. Bomber jackets can be made of nylon, satin or any other synthetic material. We offer bomber jackets in polyester satin, nylon, cotton fleece and sheep leather. Read more about this below.
Why should I choose Stagwears for my custom bomber or varsity jacket?
All Stagwears jackets are 100% customizable which means your jacket will be unique. Not only does Stagwears have the Design Lab, which makes customizing your jacket super easy, but they also use high quality materials.  They use premium quality leather and 100% virgin wood, not recycled wool. They also use top quality cotton fleece and twill material. But, they bring these high quality jackets to you at very affordable prices, especially compared to what you will find at other retailers.  And they ship the jackets to you quickly so you can be wearing your new custom designed jacket in as little as three weeks! Ready-made jackets get to you even faster! And with sizes ranging from XXS through 6XL including tall sizes, you'll be able to get a jacket that fits you just right.
How can I use Stagwears' Design Lab to customize my bomber or varsity jacket?
Stagwears' Design Lab allows you to personalize your jacket so you can be designer and the sky is the limit when it comes to the possible combinations.  The Design Labs makes it easy to walk you through each design choice.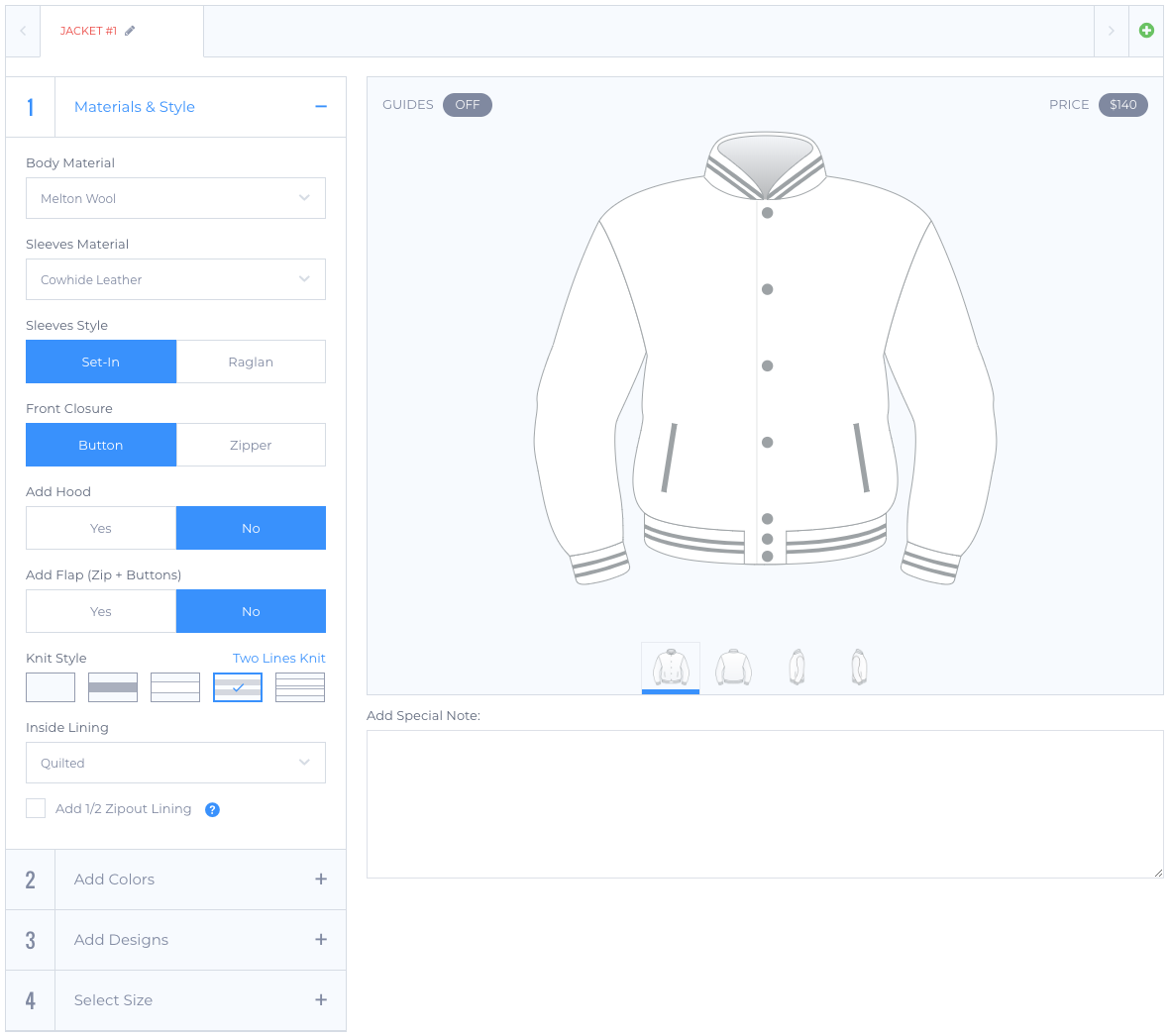 Varsity or Bomber: The first step is to choose whether you want a bomber or varsity jacket, and we've already discussed those differences.  They are both super comfortable and easy to move in, so the choice is really a personal preference.
Material: Next, choose your material for the body and sleeves.
Stagwears offers varsity jackets in a wide range of fabrics. You can choose them in spring or fall weight cotton fleece, polyester satin and cotton twill. For the cooler months, choose between all leather or a combination of wool and leather.  There are different types of leather depending on your budget. Stagwears' cowhide leather is a good deal. Faux leather keeps the price lower, but sheepskin leather can also be chosen for a more luxurious look and feel.  You can even choose a reversible jacket for two great looks in one jacket!
Stagwears' bomber jackets come  in sheepskin leather for the colder months, or a polyester satin for a trendier look and  lighter weight. Choose your lining for even greater flexibility. Stagwears' offers polyester satin, cotton & quilted lining. What you choose will depend on what season you want to wear it in and which looks appeals to you most.  You can choose a different fabric for body and sleeves, adding to the number of combinations possible.
Sleeve Style:   Will you choose raglan or set-in?
Raglan sleeves extends from the collar of the jacket down to the underarm, so there is no shoulder seam.  The benefit of this style is that it creates a wider underarm area, which allows additional space for wearing bulky sweaters or winter layers underneath.  It makes up and down arm movement a little easier. It gives the jacket a sporty look and also makes it extremely comfortable.
The other option is the set-in sleeve option.  It has a seam at the shoulder which continues around the underarm.  It gives a slightly more tailored look.
[pic of two different sleeve types here]
Along with sleeve style, choose buttons or zipper, and the knit style for your collar, waist, and cuffs. You can even add a hood or a front flap to really make your style even more distinctive.
Color: Your next choice is color, and this is a big choice, because everything is customizable including the pockets and buttons!  Start out with a minimum of 20 color choices for the body alone, depending on the fabric you choose. Selecting a different color for the sleeves gives you another selection of more than twenty colors- which means endless combinations!  Once you choose the body and sleeve color, you'll also choose the lining color and the color of your collar, waistband, and cuffs.
Custom design: Here's where you can really personalize your jacket with you school mascot, team name, company logo or name, or even your own name or initials. Memes and quotable sayings have become very popular this year. Why save them for t-shirts and wall hangings only?  Add them to the back of your jacket to stand out and show your personality! Add numbers to show your uniform number or the year. These customizations make them perfect to promote bands, teams, or even your business. Stand out as a group with matching jackets. Designs and lettering can be put just about anywhere on your jacket – and can be added to more than one place!  Design it just like you want it. Use Stagwears' library of premade designs or upload your own. Your Instagram followers will love it, and everyone will be asking where you got it!
Ready to buy?
Whether you're ready to buy or just want to play around, try Stagwears' Design Lab so you can see all the options.  Even if you're not sure what to choose, the Design Lab will show you what your design and color choices will look like so you can be confident when you make your purchase. And, as you make each choice, the Design Lab tells you the cost of each choice, so you can stick to your budget.  Browse our Instagram and Facebook pages for even more ideas.  The Design Lab is so fun to use, you might just want to try out lots of different combinations (and you might end up ordering more than one!)
Once you get your custom jacket, please share your selfie with us to be featured on our Instagram page.