Around since the late 1800s, nothing merges school spirit and personal style quite like a varsity jacket.
Allowing athletes, scholars and community members alike to showcase their devotion to their campus, these make the perfect addition to any wardrobe. Yet, it's no secret that schools and academies across the country are faced with lean budgets that don't leave much room for fun purchases like these.
That's why it pays to partner with a varsity jacket wholesale supplier who can deliver the products you need at a price point you can afford.
Today, we're sharing a few ways to find the perfect supplier to meet your needs and unique requirements.
Ready to learn more? Grab that megaphone and let's get started!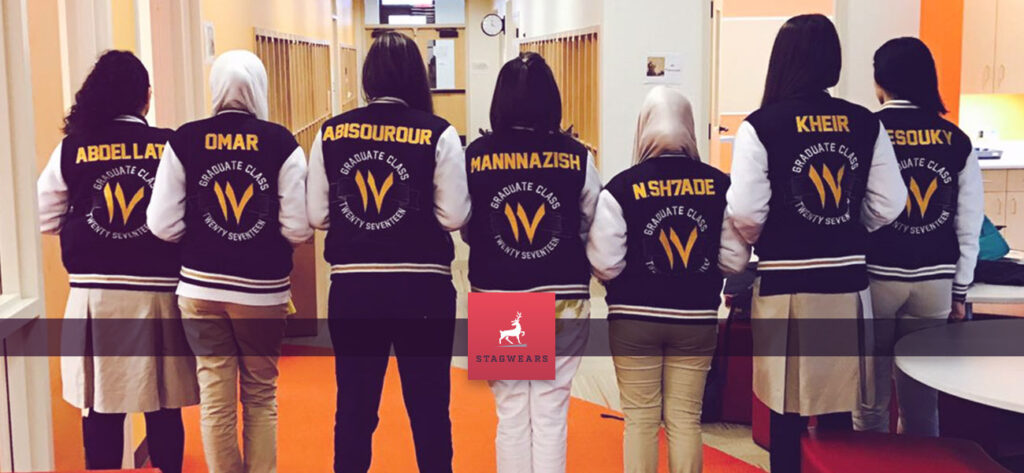 Look for Customization Options
Your school isn't like everyone else's. The same applies to your organization, club, association, dance studio or any other group you want to adorn in style.
As such, your order for varsity jackets will include special creative requirements that make your design unique.
From your logo and school colors to graduating years and other emblems, you should be able to customize your jacket design with ease, rather than trying to fit it into a standard look and feel.
At our Design Lab, we make it possible to do just that.
Here, you can customize your jackets any way you require, adding special touches such as:
Different jacket syles
Different sleeve styles
Different lining types (plain or quilted)
Different closures (zip-up, button)
Different material combinations
Specific colors
Student names
Custom patches
You can also access our wide range of ready-to-use mascots to simplify this step. Whatever design you create, you can rest assured that all materials are sturdy and top-quality. We feature designs suited for both men and women, with a handy sizing guide to make sure you get the right fit every time.
We're also able to accommodate a range of fabric colors to help your dream come to life! You can add up to 12 characters to any jacket, including uppercase letters, lowercase letters, numbers, and symbols.
In addition to traditional varsity jackets, you can also choose from a range of different letterman jackets, bomber jackets, and even hoodies. Material types include:
Cowhide leather
Faux leather
Melton wool
Cotton fleece
Cotton twill
Polyester satin
All of our materials are top-grade and built to last through plenty of wear and tear. Whether you choose a thick leather or a luxurious satin, you'll receive the same great-quality fabric sure to turn heads for all the right reasons.
Understand Timelines for Custom Varsity Jackets
With some providers, you might have to wait months to receive your order, especially if you place a highly customized one. If you need the jackets for a special event such as homecoming or graduation, this could put you behind, leaving students and parents frustrated.
When you're searching for the best varsity jacket wholesale supplier, start by asking about order timelines.
When you order from us and pay a deposit, your custom order will take around three weeks to process and ship to you. That means in less than a month, you'll have tailor-made creations at your doorstep, ready for distribution. We ship our custom jackets throughout the United States, as well as Canada and the rest of the world.
Do you have a special turnaround time or order request? Some suppliers might balk or push back at the idea, but we embrace it. Feel free to contact us with your requirements, and we'll work with you to make sure you receive your items on time.
Prioritize Price
There's a reason we're already providing premium-quality varsity jackets all over the globe. Our wholesale pricing sets us apart from the competition and makes sure we're able to provide you with the lowest price point possible.
Want to save even more money? Order in bulk!
We offer a huge discount on bulk or team orders, with the savings fluctuating depending on the size of the order and each garment's customization.
Worried you won't receive your order on time because it's so big? Don't be!
We only require around two to four weeks to produce between 15 and 50 jackets, depending on the level of customization required. While we also offer individual jackets, your greatest savings come in the form of bulk orders, so go ahead and create enough for the whole team!
Ensure Top Quality
A varsity jacket is meant to last for years, passed down as a priceless heirloom among generations. That's why you shouldn't scrimp or sacrifice on quality.
Find a varsity jacket wholesale supplier that places an emphasis on quality at every turn. Our premium-quality fabrics are built to last. They're durable and sturdy, designed to keep wearers warm while looking as cool as possible.
Other suppliers might offer competitive pricing but poor quality. On the other hand, we pride ourselves on offering the lowest prices possible while still maintaining our high standards of professionalism and excellence.
The Varsity Jacket Wholesale Supplier You Need
Your search for the best varsity jacket wholesale supplier is over.
When you order from Stagwears, you know you're getting the best product on the market, combined with the fastest shipping, highest quality, and most competitive price point. When you want to stand out, instill community spirit and spark school pride, create a custom design that's all your own. We're here to help you, every step of the way.
Browse our full product inventory and contact us today with any questions. Let's make your design dream come true, one stitch at a time!