Regardless of whether you're a Gen X guy who grew up relentlessly watching Michael Jackson's 'Thriller', a High School Musical-obsessed Millennial, or a Gen-Z dude well acquainted with Riverdale, you are probably familiar with the iconic varsity jacket (aka the letterman jacket). Contrary to how it's shown in a typical high-school movie, the men's varsity jacket isn't just reserved for jocks anymore and you certainly don't have to be a muscular, floppy-haired epitome of toxic masculinity to rock one. That character may seem quite a bit passé at this point, but the jacket itself has aged beautifully.
Today, the letterman jacket – easily recognized by its sporty silhouette and color-blocked design – is a legendary toss-on-and-go piece that is timeless, versatile, and undoubtedly, a style that exudes the American spirit like no other. A pure classic.
So, if you're on the lookout for a letterman jacket, we have an enviable collection at Stagwears for you to choose from. But now that you've got one, how do you style it? Say no more. From retro to classic and sporty to preppy, here is our ultimate guide for styling this season's trendiest men's varsity jacket.
LOOK 1 – The Timelessly Casual Letterman Jacket Look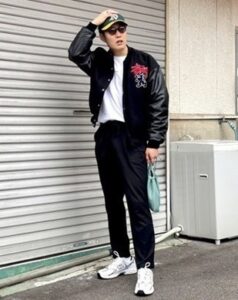 Chinos, white athletic shoes, a neutral-toned t-shirt, a varsity jacket – they are all the goodies that have been extensively worn ever since the middle of the 20th century and aren't going out of style any time soon. Simply said, this combo works and always will – sport it on your next casual weekend outing and you might hear someone exclaim, "Don't you just look like James Dean!".
LOOK 2 – The Ultimate Modern Street Style Look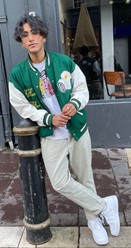 The letterman jacket perfectly lends itself to the chic, urban vibe of contemporary streetwear. Try going for athletic styles that evoke 80s nostalgia and pair them with regular or skinny jeans. For extra spice, consider a letterman with bold embroidery at the front and layer over a graphic t-shirt. Finish with a pair of high-top sneakers for an outfit that's both street and sporty.
LOOK 3 – The Preppy Letterman Jacket Look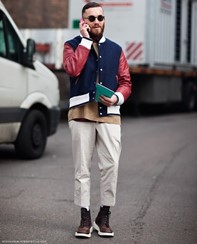 Because of its origins in American schools, the preppy aesthetic is perhaps the best choice for styling these jackets. Choose a jacket with a color that is more reminiscent of college colors and contrasts with the white leather sleeves. Finish the outfit with a pair of traditional chino trousers, or maybe a patterned one if you're feeling extremely preppy. Go for a subtle top, say a white shirt, if you're wearing vividly colored pants for a rather crisp look.
LOOK 4 – The Final Minimal But Sharp Look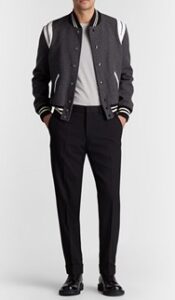 A classic, minimal design letterman jacket has something of its own quiet charm. Owing to its clean-cut and striped shoulder line, the jacket presents a rather crisp, almost stunning look. Style this classic piece by keeping the remainder of your look monochrome. Complement this ensemble with black jeans or trousers, a pair of black shoes, and voila – your perfect outfit is complete.
Try one of these effortlessly chic styles or maybe put your own spicy spin on the look because the varsity jackets are here to stay and honestly speaking, there might never be another wardrobe icon capable of giving off an aura of success and class quite like a varsity jacket.
To get you started, shop our edit of the letterman jackets for men. Have one particular outfit in mind? No worries. Design your own.