This year is all about track jackets – whether you are on the track or standing on the sidelines. This means it's time to take yours out of the closet or hit the market for one. Here's an ultimate guide on how to style a track jacket women edition.

The arrival of fall may mark the end of summer festivities. But it comes with a heaven of its own – gusts of rich sun-warmed breezes, carpets of crimson-carmine leaves and peaceful evening walks. But, while all these things are just perfect, the real charm lies in the return to a more solid wardrobe. When the breezy summer dresses are tucked away in favor of something a bit warmer like a classic transitional jacket.
And since post-covid is all about comfort and keeping it minimal, what could be a better transitional piece than the iconic track jacket. Designed in the 1960s to be solely worn by athletes on tracks, the track jacket still manages to stay completely modern, withstanding the test of time and the rise and flow of seasonal trends to earn itself a rightful place in fall wardrobes.

Stag Wears' Fleece Track Jacket Women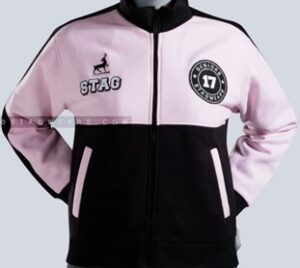 We love a jacket that unites comfort, fashion and function, and no wonder we're seeing the track jacket everywhere. From NBA players you're obsessing over to Hollywood celebrities, models and pop stars, everyone is rocking the jacket in their own way. This month, the paparazzi captured at least two Kardashians hitting the streets in their track jackets and it's time for you to hop on the trend too.

But how to wear track jackets right? Find the statement that speaks to your soul and this season, step away from 'keeping it simple'. Here are 3 ways to style the track jacket women edition.
Track jacket women outfit ideas.

LOOK 1 – GO MONOCHROME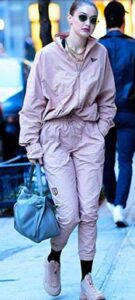 Supermodels like Hailey Bieber and Gigi Hadid are just two of the many uber-stylish women who refuse to limit their tracksuits to the gym. Recently, the two of them were spotted across town putting their own off-beat spins on the jacket. Proving that the track jacket has evolved into something far more sophisticated and modern. Here's how you can style the track jacket as they did.

Two words – go monochrome. Start with your favorite track jacket and pair it with matching trousers or sweatpants. This monochrome styling of the track jacket is perfect if you want to add that extra edge to your street look. It will elongate your frame and will add just the right amount of sophistication.
If Hailey's bold colors are not your thing, you can achieve the same look with neutrals as Gigi did. Round up the ensemble with some cool shades, white sneakers and don't shy away from throwing in some loud chain jewelry. Perfect.

LOOK 2 – LAYER IT WITH A COAT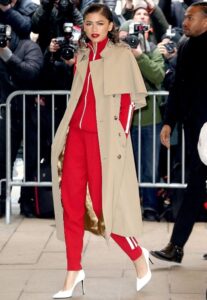 The versatility of the track jacket knows no limits. It can be sported everywhere – from airport to lunch to date nights and beyond. Zendaya, on the other hand, took the challenge to a whole new level and was spotted wearing the track jacket in the front row. Yes, that's correct.

For our second look in this edit, we take inspiration from Zendaya's iconic front row outfit to style the track jacket in a way that is both sporty and preppy. Start with a rich-hued track jacket and pair it with matching trousers. Do yourself a favor and think beyond blues and blacks. Open your heart out and experiment with colors. Next, give the outfit a breath of sophistication by layering it with a camel-colored trench coat. Take it from Mary Jane and skip your everyday sneakers in favor of some pointed-toe pumps. A swipe of that bold red lipstick and you're good to go.

LOOK 3 – PAIR IT WITH JEANS OR FLARED PANTS
Stag Wears' soft-shell track jacket women
It's time to rock the track jacket with a different beat – pair it with the hero staple of every wardrobe, aka the denim jeans. This pairing is effortless and perfect for a casual afternoon. In case you wish to take the track jacket to a more formal setting, consider pairing it with flared pants instead. Wearing pants with the track jacket is a happy marriage of smart and casual, the former counter-balancing the latter. Finally, complement the outfit with a pair of sneakers. Or peep-toe heels. Or strappy sandals. You do you.
To get you started, shop our edit of the variety of track jackets for women. Have one particular outfit in mind? No worries. Design your own.