Shop Stagwears range of hoodies for men in a wide variety of colors and styles that you can't live without!
Esteemed members of the Ton and Our Dearest Comfort-Lover Readers, It seems we have a rather special announcement. The fall season is upon us, and we take so much delight in informing you that this season we shall be graced with the presence of the town's most beloved – the hoodie jacket. YAY!
For as long as we can remember, the hoodie jacket has been there for us. It has accompanied us on our late-night movie marathons, carried us through our college years, and has been the perfect airport outfit. But not for Kanye.  For years, Ye has been advocating its potential as a hardcore wardrobe staple and has been donning it everywhere like the cool dude he is. Now, it seems like the rest of the world is finally catching up with him.
From formal, office-ready options to ones that are super-comfy and perfect for some Sunday sofa chilling, there's a hoodie for every occasion. The key to perfecting this versatile piece without looking like a slob is to style it with just a little bit of consideration. And that's where we come in. From retro to classic and sporty to preppy, here is our ultimate guide on how to style hoodies for men.
LOOK 1 – SUIT UP LIKE A BOSS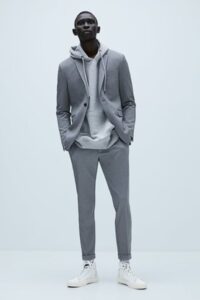 Our first look exquisitely combines the hoodie with a suit for an outfit that is as pristine as it gets. This layering of a light-colored hoodie under a comparatively darker suit is a unique take on the urban aesthetic. Mixing formal and casual pieces with an effortless sartorial appeal, this outfit comes no#1 in our edit.
Granted that on paper, this combo might seem a little off. But the intrinsically casual vibe of the hoodie, combined with the sophistication of a blazer, makes for a winner style. With this outfit, you'll achieve a look that's perfectly suited for both work and party, whatever the occasion. For extra points, throw in a pair of high-top sneakers to the mix. Perfect.
LOOK 2 – HOODIES OVER SHORTS SPICE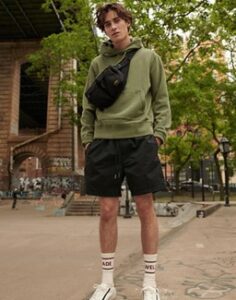 With summers nearing their end and fall approaching, our wardrobes desire one very specific set of clothing. If you haven't already guessed it, we are talking about hoodies over shorts – a pairing that is practical and glorious. Hollywood icons like Kanye, JB, and David Beckham have all put their own unique twist on the combo and have effortlessly sported the look. Here's how you can too.
Pair your best-fitted hoodie with pair of chino shorts or swim trunks. You can't go wrong with combinations like olive and black, grey and black, or even black and black. If you are feeling a little bold, try experimenting with graphic or tie-and-dye hoodies, and maybe throw in a fanny pack too. Finish the look with a pair of white low-top sneakers and hit the weird weather outdoors.
LOOK 3 – PREPPY MEETS STREET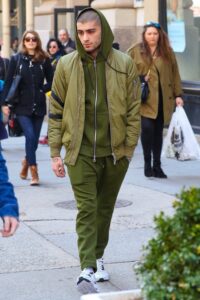 This is Zayn Malik's world, and we're all just living in it. No seriously. Always at the forefront of men's fashion, Malik is never afraid to experiment. And thus, our final look is inspired by this ever-so-dashing popstar who on a recent stroll took a rather preppy-meets-street take on the hoodie. So how can you recreate this look with the same dash as Zayn? The answer is, with utmost ease.
Start by pairing the hoodie jacket with some classic track pants and top it off with a bomber jacket. With vintage charm and a timeless appeal, the bomber offers both warmth and style. Our advice? Stick to monochromatic tones. Finally, add in a pair of combat boots to spice up the look.
With all the appearances the hoodie jacket is making, both on streets and fashion runways, there is one thing we know for sure: This season, the hoodie shall truly have its moment in the sun and with it, you can too.
To get you started, shop our edit of the most stylish hoodies for men. Have one particular outfit in mind? No worries. Design your own.