What makes a good letterman jacket look great? We've said this already, but it's always worth repeating the most important style lesson out there: Fit is everything. No matter what the price, a letterman jacket is only as good as its fitting. Seriously. A 100-dollar well-tailored jacket will always look far better than the one you might purchase straight off the rack for 1000 dollars. We've seen men buying luxury letterman jackets and letting them dangle on their bodies like an NBA rookie on draft night. And we've also seen folks sporting cheap but well-fitted jackets, looking like a billion bucks. The point is – your letterman jacket must fit right at all costs, or else you're better off without it.
If you don't believe us, take it from the Italians. There's a reason Italian men always look impeccable and are probably the most stylish bunch out there. Simply put, these folks are more likely to care about tailoring than any of us ever can. We're not saying you should alter everything you own (although if you have the luxury to do so, definitely go ahead), but there are a few things you should keep in mind when shopping for a varsity jacket to guarantee that the jacket you buy fits and complements your figure just right.
To help you out, in this special letterman jacket guide, we break things down as broadly and simply as we possibly can. So, let's not waste any more time and get on with the business of finding the best-fitted letterman jacket for you.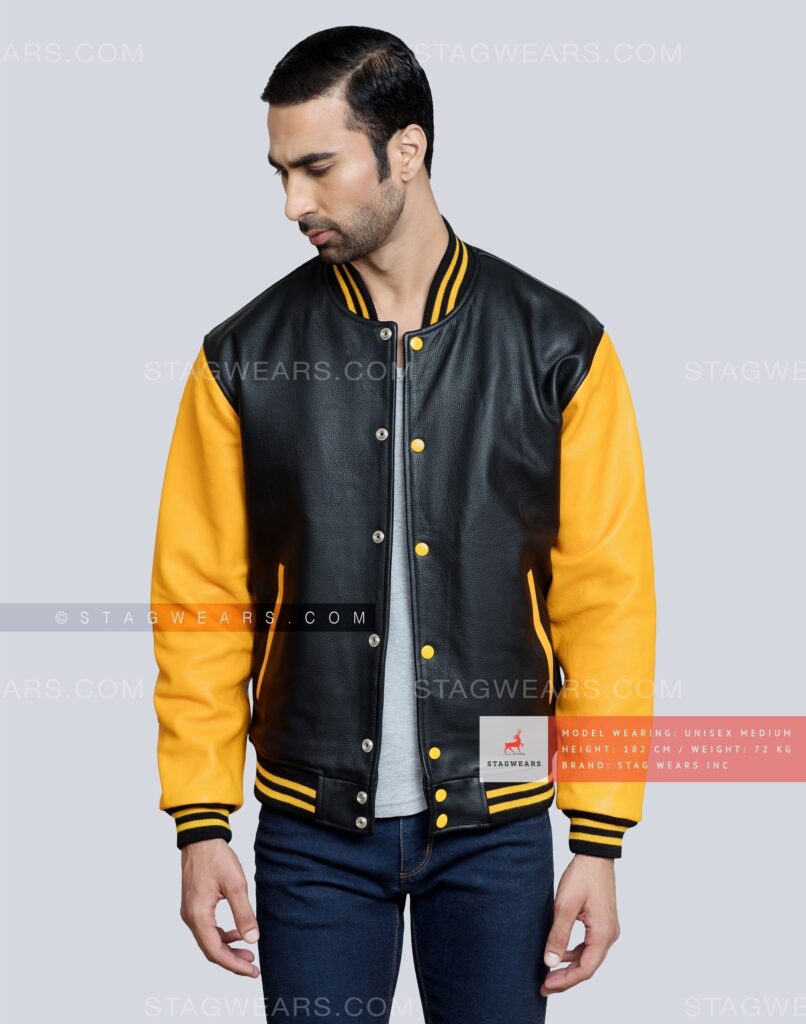 Here's how your letterman jackets, aka varsity jackets, should fit:
1 | Look over your shoulders – Letterman Jackets
The most crucial part of finding a properly fitted letterman jacket is getting the shoulders right. Your tailor won't be able to fix a droopy or short shoulder, so make sure the shoulder seams end right after your shoulder bones and a little before the top of your arms. You're looking for absolute precision here, lads.
The shoulders of your letterman jacket should highlight its silhouette with crisp, continuous lines and a neat drape throughout the jacket. That's when you'll know it fits right.
2 | Pay special attention to the sleeves –Letterman Jackets
Start by taking the exact measurements of your sleeves' length and width. To do so, stand up straight with your arms down at your side and measure from the base of your neck to the point just below your wrist bones.
A correctly fitted letterman jacket will have sleeves properly tailored around the arms with just enough space for layering a shirt underneath. The sleeves must not hug your arms too loosely either. They should be tight enough such that when you raise your arms up, they don't lift past your wrists.
3 | Get the right chest measurement
Like many other jackets, letterman jackets look better in a tight fitting and so designers usually recommend going a size smaller than you would normally do. Your jacket's fitting at the chest should be so you can button or zip it all the way up with utmost ease. A letterman jacket should be neither too snug nor too baggy. In fact, there should be just enough room underneath for a single hoodie or any other layering piece. Not less, not more.
To get accurate chest measurement (circumference, to be precise), use an inch's tape and measure under the armpits over the fullest part of your chest, while keeping your arms loosely at your sides.
4 | Do a hem check and remember: length is key
Letterman jackets should not go any lower than your belt. This recommended length might seem a little shorter than what you're used to, but trust us, it's certainly preferable to the alternative. It's quite a simple decision, to be honest. The longer the jacket, the shorter you'll look. So, remember: if it drops below your beltline at all, we suggest exchanging it asap.
Another way to check if your letterman jacket has the right length is to hang your arms lose at your sides and see if your fingers can easily cup the bottom hem of your jacket. If so, you got it right. You know what to do otherwise, right?
Time to buy your letterman jacket
The letterman jacket is not just a high-value purchase, it's also a complex one. Whenever you're in the market searching for one, you find yourself surrounded by a wide variety of measurements and a dozen different fabrics and styles. Don't less this scare you off, though. As long as you follow this guide step by step and order wisely, there's really nothing to be afraid of.
So, what are you waiting for? Shop your heart out from our specially curated edit of letterman jackets right now.