Hoodie – A garment that came out in the 1930s to protect factory workers in New York against the freezing cold weather, has evolved massively through the decades. The hoodie made it to the streets, sports grounds, tv shows, films, runways, and is now considered a wardrobe staple for people of all ages.  From young teens to people in their 60's or 70's, everyone's rocking the hoodie.
The stylish and versatile yet humble and comfortable wear works for anyone strolling around the streets of the city, working out in the gym, enjoying a leisurely evening while watching a tv show, making a style statement on fashion runways, or conveying certain narratives on some Netflix show (I see you there, Squid Games fandom!). Nowadays hoodies have become classic versatile everyday wear. Wearing a hoodie might mean a unique fashion statement or maybe something even more than that.
Our cinema and TV have played a huge role in making the hoodie culture mainstream. Our movies not only made hoodies an iconic fashion wear but also represented different shades of the complex symbolism of hoodies that ensued many different opinions among the masses. We have compiled for you a list of iconic hoodies worn by our stars in movies and tv shows that have been instrumental in promoting hoodie fashion.
1 | Rami Malik's Black Hoodie in Mr. Robot (2015-2019)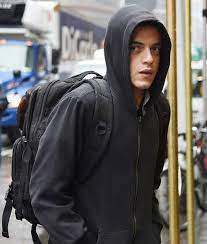 Whenever we see a hooded person, sitting in some dark basement or an isolated area with multiple screens in front of them, we instantly recognize the person's identity – A Hacker! Rami Malek as Elliot Anderson plays a cyber security engineer in popular tv series, Mr. Robot, who works as a vigilante hacker at night. The staple black zip-up hoodie with a classic copper-like zip-up perfectly embodies the emotional state of our beloved hacker who is suffering from an anxiety disorder, delusions, and paranoia. He pulls up his hood like he wants to disappear from the dark world he is trapped in, and we feel for him. Alongside portraying his emotions through his classic hoodie, Rami Malek sure tells us how to look cool in it and that these staple black hoodies will never go out of style!
2 | Chelsea Peretti's Hooded Jacket in Brooklyn 99 (2013-2021)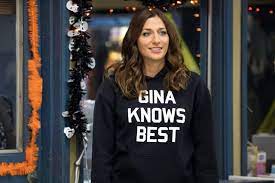 Time For Gina's Opinion! You cannot not know Gina's opinion if you have watched the first five seasons of the series "Brooklyn 99" because Gina tells you everything through her exemplary hoodies. Brooklyn 99 revolves around a team of detectives in Brooklyn's 99th precinct commanded by a new, serious, and intellectual commanding officer.
One of the main characters, Gina Linetti, had the most iconic wardrobe, clearly portraying her intelligent, strong personality. With sassy one-liners printed on shirts and hoodies, Gina's personalized clothing makes the character stand out. We know that "Gina knows best" is up there but "Time for Gina's opinion" carries the day hands down. The velvet maroon classy hoodie with a golden crown imprinted on it leaves no doubt that Gina is a savage queen! It symbolizes strength to stand by one's own opinions and the guts to say those opinions out loud.
3 | Sylvester Stallone's Sports Hoodie in Rocky (1976)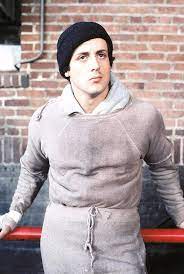 Not all heroes wear capes but most of the heroes in sports movies certainly wear hoodies, exuding an aura that says "I am not someone you can mess with". That's exactly the kind of person our hero, Rocky Balboa (played by Sylvester Stallone), is. It was this blockbuster film that gave the hoodie the iconic fashion status it has today. The film revolves around the story of an Italian-American boxer who is filled with determination and valor. After the runaway hit's frenzied popularity, the hoodie emerged as a symbol of rebellion, strength, and resolution since the grey marl hoodie was as much a part of the character as boxing.
4 |Mike Colter's Hoodie in Marvel's Luke Cage (2016-2018)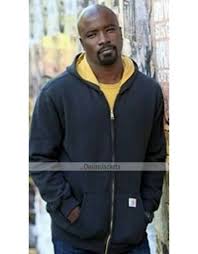 Here's a superhero with super strength wearing a hoodie to shut him off from the world. This hoodie symbolizes the desire to hide from the world in this movie. There are many other movies with such heroes but Mike Colter takes the cake by perfectly pulling off the black and yellow zipped-up hooded look.