Fall is almost here and this season we're rocking the classic sportswear turned casual wear–the ultimate, old-school zip-up, the track jacket. Read on–this is Stag Wears' guide on how to style a men's track jacket.

Here's the bottom line: you need at least one track jacket in your wardrobe. Why? Well, because it might just be the best thing that ever happens to you. No kidding. Originally designed in the 1970s for athletes, the track jacket is a go-to for workouts, walks and morning jogs. But thanks to athleisure's remarkable endurance, this year, the track jacket is truly enjoying its moment in the sun.

Stag Wears' Track Jacket – Cotton Twill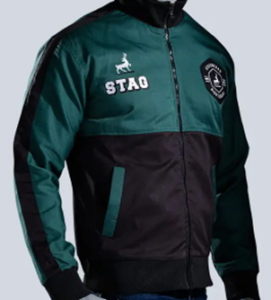 There's something about track jackets that makes them so irresistible. The moment you slip one on, you quickly transform into this more daring and alive version of yourself, with a charisma that is hard to match.

With their slim silhouette and shiny fabric, the track jackets are so masculine and modern that it's difficult to not get in on the action. All you need is some strategic shopping, a keen eye for color and a passion to try something new.
To help you out, we've picked out some of our favorite track jackets and some fine looks you can style with them. Here are three ways to style the men's track jacket style.

Men's Track Jacket Outfits

1 – THE OFFICE ATTIRE
We know, we know. There's only one question circling your mind: is it possible to wear the track jacket to work? Well, it goes against popular opinion, but we believe that when paired with the right pieces, the answer is yes. First things first, skip the head-to-toe look – it might just be way too casual for a formal setting like your workplace. Instead, try experimenting with unique patterns, colors, and silhouettes.
Stag Wears' Track Jacket – Reversible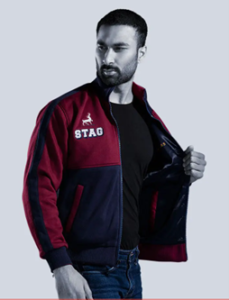 A track jacket in some basic shade – navy blue, deep red or perhaps even a combo of the two – will look manly and sophisticated when paired with a simple black tee. Try combining a black track jacket with denims or black pants for a more polished look. Throw in some black shades and a pair of leather derby shoes for an outfit that makes a statement without having to yell about it. Clever, minimal and sharp – just what you need to impress them all.

LOOK 2 – GO BOLD OR GO HOME
How does the fashion-conscious man keep himself warm in winter? Truth be told, function and fashion aren't famous for coexisting. That, however, does not imply that you (with a little help from us) can't make it happen. And thus, for the second look in our edit, we are going all in, and we are going retro.
Stag Wears' Track Jacket – Satin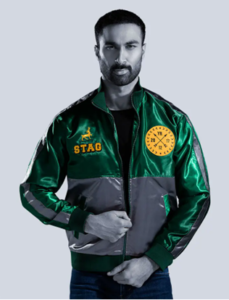 Thanks to the striking boldness of his satin track jacket, this man's outfit is truly popping. Shiny, retro and packed with colors – this track jacket is just what we're looking for this fall. Zip it all the way up or take it from this dude and layer with similar tones. You do you. In case you are feeling a little too bold, pair a vintage track jacket with a graphic band tee, a pair of old denims, and get ready to turn some heads.

LOOK 3 – KEEP IT SHARP BUT MINIMAL

If you're going to wear the track jacket, you may as well do it right. And there's perhaps no better way to style the track jacket than layering it with a trench coat. Trust us, this pairing is so posh and appealing that you'll come back to it time and time again.

Here's how you can nail it. First things first, think beyond the basic blues and blacks. Instead, try experimenting with tonal colors like a beige trench coat layered over a crisp fawn track jacket. Dress the outfit down with matching chinos, or if you're a guy who prioritizes comfort, sweatpants. And don't forget, a pair of white sneakers will complement the look just right.

Now that you know how to style a track jacket, take your pair out of the closet, or get one from our exclusive men's track jacket edit.