Ditch the same old boring styles- shop the latest women's bomber jackets styles at Stagwears!
It's effortless, it's timeless, and most importantly, it's fabulous– it's your ever trusty bomber jacket! Read on to find out more about the amazing ways you can style women's bomber jackets!
Stemming from a military tradition, the bomber jacket was initially only designated for men's wear. However, over the years women's bomber jackets have started to dominate the female fashion scene. And thankfully so, because as it turns out, women can style it in a much wider range of styles.
It's also one of the few pieces of apparel that have managed to retain their charm throughout more than a century long run—and for good reason too. They're stylish, functional, and can take any outfit from a zero to a solid hundred real quick. They also come in a wide variety of colors, prints, and fits, so there's something for everyone. Bomber jackets also make the perfect choice of clothing for that transitional weather in between winter and spring and later, between summer and autumn.
But perhaps one of the best things about women's bomber jackets is the fact that they're so versatile. Pair them with anything from sweats to skirts and ta-da! Instant swag.
As we transition into fall, here are some handy tips on how to style your outfits with your favorite bomber jacket– or if you still haven't found the one, you know where to look *hint* insert link *hint*.
Not a lot of people realize this but the key to slaying a women's bomber jacket look is paying attention to what you wear underneath it.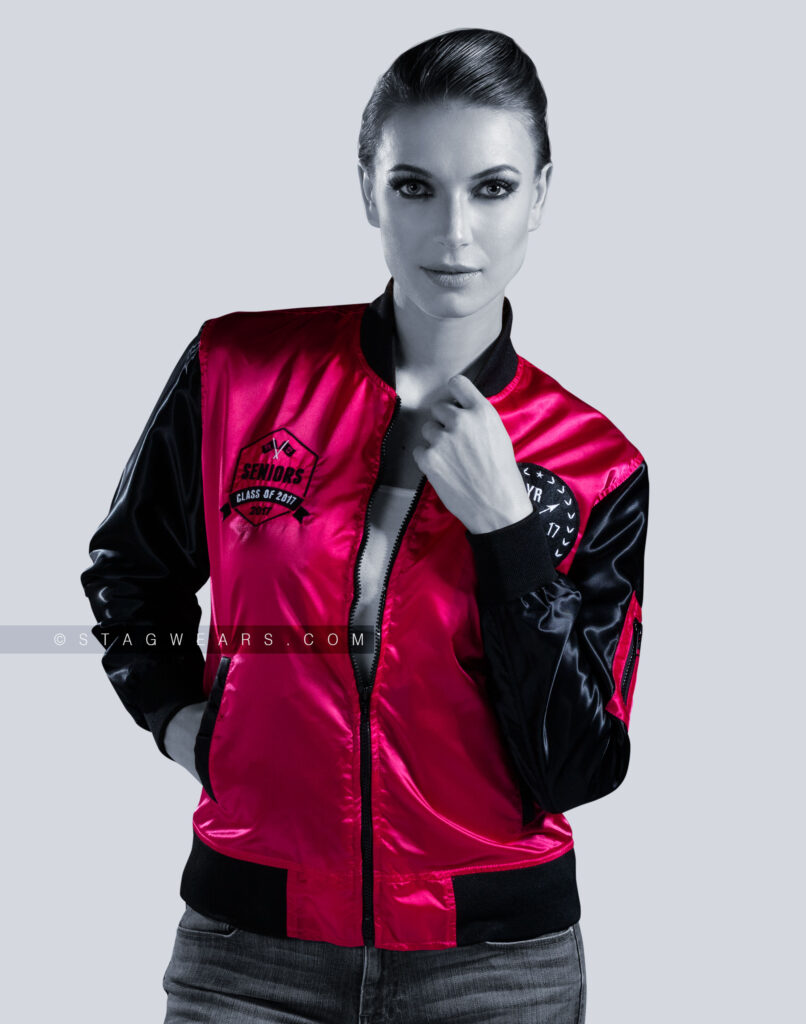 Women's Bomber Jackets
Look #1:
For those casual days when you want to pull off a look- key yet effortlessly chic look, throw on a solid colored bomber jacket over your favorite statement t-shirt. Be sure to keep your bomber open though. Pair with your dependable mom jeans and white sneakers. And there you have it—a simple tee and jeans have never looked more put together.
To take the glam factor up a notch, top with accessories like a gold chain and some hoop earrings.
Look #2:
For your lazy Sunday mornings when you're in the midst of Netflix and Chill but suddenly the need for some Starbucks calls, just wear a bomber jacket with your sweats. If you're feeling particularly adventurous, you can even dress up your outfit by wearing heels with it. Now you're no longer a lazy gal doing her morning coffee run– you're a model strutting down the runway.
Look #3:
When those winter days call for something extra, pair a cropped tight cable knit sweater with your favorite classic bomber jacket. We're a huge fan of the original brown leather bomber with this particular look. Top it off with high waisted skinny jeans and black leather Chelsea boots and you've got yourself a fashion statement.
Look #4:
Nothing quite infuses a sporty vibe to a glamorous look more than a dress paired with a bomber jacket. An open, old style bomber jacket goes beautifully with a summer dress. It also comes in handy on chilly spring evenings. You can keep things simple and choose a jacket in either a neutral shade or if you're feeling colorful, a bright floral print. Just be sure to keep your bomber unzipped so as to not draw attention away from the dress.
Look #5:
Whether you're going out on a run or for a casual night out with friends, you can't go wrong with this outfit. Simply layer a bomber jacket over your favorite hoodie (if you haven't yet, check out our range of custom hoodies here). Complimenting colors, like a grey hoodie with a black bomber jacket, looks amazing but there's nothing against contrasting colors in the fashion rulebook either. Finish the look by throwing on some black leggings and black runners and you have yourself a magazine worthy Athleisure look.
Look #6:
Style ripped denim shorts with a cropped top and an oversized khaki green bomber to own that cool, edgy girl look. Add a pair of Birkenstock sandals and a black leather bag and you're a badass fashionista.
Look #7:
For a modern and elegant look, combine your wide leg jeans (preferably in black or white) with a crop top. Add to the mix a bomber jacket and your trusty sneakers and voila! You're slaying the casual street style.
If you're going for a more semi- formal look, swap the sneakers for high heels and you're good to go.
Look #8:
Rock that elite private school student look by pairing a pleated mini tennis skirt with a sweater of your choice. Now the key to pulling off this look is to actually tuck in the sweater and throwing a bomber jacket on top. For footwear, you can do buckled leather ankle boots or over the knee boots.
If you're dressing up in spring, a floral print jacket with a pastel colored sweater and skirt would be *chef's kiss*.
Look #9:
Keep things fresh and classy with a khaki bomber draped over the shoulders of a cream turtleneck sweater dress. For a more formal, dressed up look, opt for camel sock boots or if you're more in the mood for something casual, white converse are your best friends.
Top off with rounded reflective sunglasses and a belt bag for a style statement that's off the charts.
Look #10:
Get ready for autumn by pairing a slouchy turtleneck with your favorite ripped wash blue boyfriend jeans and black trainers. To balance things out, opt for a slim and flattering design of the bomber jacket. Take this simple yet stylish outfit to the next level with gold accessories.
So, the only question left is: are you ready to take all your outfits from drab to fab and serve some bomb looks this coming season?
To get you started, shop our edit of the custom bomber jackets for men. Have one particular outfit in mind? No worries. Design your own.