Every person should own at least one killer bomber jacket. No exceptions. Why, we hear you ask. Well, there's just something about bomber jackets that makes them so iconic and versatile. Whether it's the jacket's tough silhouette or its masculine military vibe, the moment you slip one on, you quickly transform into this more daring and alive version of yourself, with a swagger that is hard to match. The point being: if you don't already own one; you need to get yourself a good bomber jacket ASAP.
Now while a good bomber jacket will make you look sharp, sporty, and sophisticated, a lousy one will make you look like a minor character in a bad indie film or a dude who still gets dressed by mommy. And trust us, you don't want to be any of those. That being said, it helps to know a thing or two about buying and wearing the right bomber jacket.
So how to get it right? Every man – even your favorite luxury-brand designer himself – began as a jacket rookie, and we understand how intimidating it can be to get the right fit. Say no more because we've got you covered. There's an art to finding a bomber jacket that fits just right and you're about to discover how to master it.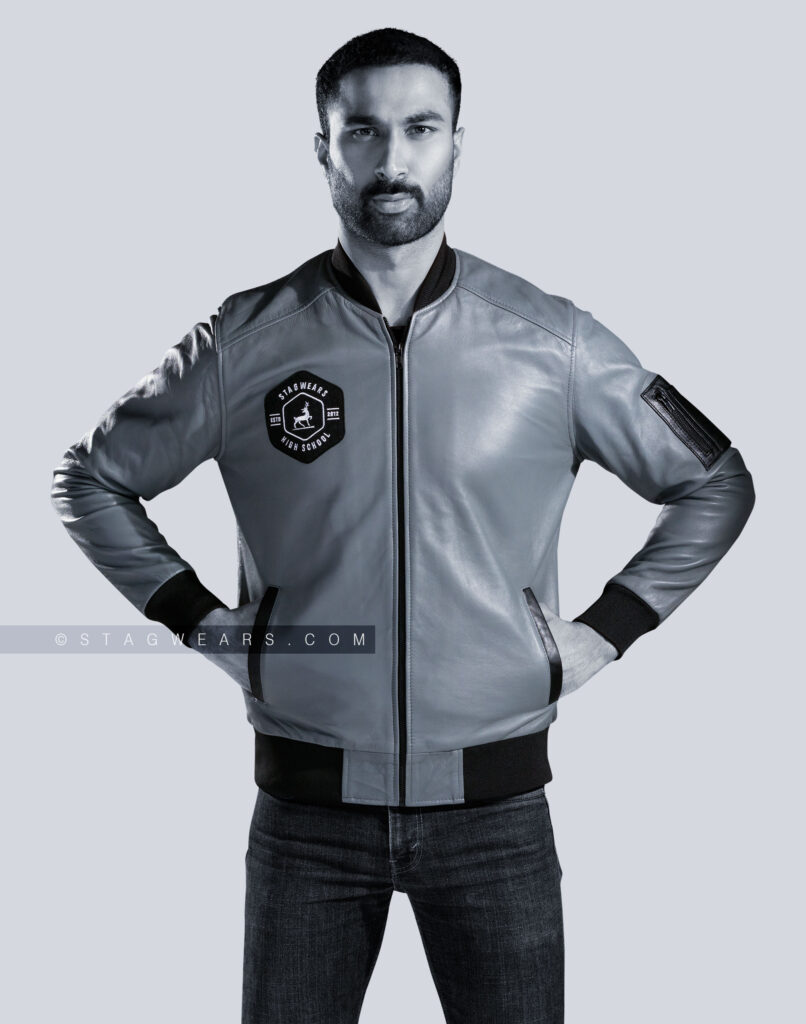 First, ace the waist fitting
First things first. Your bomber jacket's waistband should sit just below your belt. In the case of a jacket that fits just right, the waistband does not stretch too much once you zip up your bomber. A little snug but comfortable fitting is the right way to go.
Look over your shoulders
A jacket's shoulders are often the most important element contributing towards its perfect fit. If your bomber jacket's shoulders don't fit naturally, then it's a total waste. As simple as that. Therefore, to save yourself from such a wreck, we recommend you check twice if your bomber jacket appropriately fits across your shoulders. Here's how you can do so:
The seam linking your torso to your sleeves must run across your shoulder peaks. If the seam goes beyond, your jacket is too oversized. Otherwise, if the seam falls short, consider sizing up.
The best indicator of perfectly fitted shoulders is zero creasings around shoulder blades when your arms are resting by your sides. Any creasing and you'll know that the bomber jacket is rather tight for you.
Get the sleeves right
In the case of the bomber jacket's sleeves, you should first consider your jacket's type.
If your bomber has a padded design with an inner lining, your sleeves should be a little rugged to complement the jacket's body.
But if your bomber jacket has a slim nylon silhouette, tightly tailor your sleeves around your wrists and ensure that they can stretch enough.
At last, your sleeves should end on or half an inch before your wrist bone and should in no case slide up if you raise your hand.
Do a collar check
The knitted collar that arches around the neck, in contrast to the rugged look of the bomber itself, is one of the unique elements of the bomber jacket. Initially designed to protect flight personnel from high-altitude winds, the collar has since grown into a core part of the jacket's style. Therefore, it's vital that the collar properly fits.
The bomber jacket's collar should usually stretch slightly higher than other jackets such that it delivers the neck a crisp, streamlined look. But not too high. Try avoiding designs with overly high collars for a sharp and sophisticated look.
If you're ready to design your bomber jackets or just want a payment-free opportunity to play around with different looks, visit our design lab! Choose from our many styles and check out all the ways you can customize your jacket to get the perfect look.